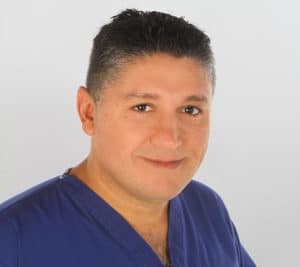 About Mr Abisi
Mr Abisi is a consultant vascular and endovascular surgeon at Guys and St Thomas' Hospitals. He offers treatment for varicose veins, intermittent claudication, diabetic foot, carotid artery disease and aortic aneurysms. Mr Abisi has a particular expertise in cutting edge minimally invasive techniques to treat complex aortic aneurysms. Mr Abisi had vascular surgical training in Nottingham and London. He was awarded the prestigious Cook/Vascular Society Fellowship in 2012 and spent one year at St Thomas' hospital building experience in complex endovascular interventions, in particular branched and fenestrated endografting of all types of aortic aneurysms.  He was a visiting endovascular consultant in the vascular centre in Malmo in Sweden in 2013, before returning to the UK to take consultant post at St Thomas' Hospital in London in 2014.
He performs both open and endovascular procedure and he adopt evidence-based approach and modern vision to your condition to offer you state of the arts and contemporary treatment options to achieve the best outcomes. Mr Abisi is fully accredited in diagnostic vascular duplex imaging by the society of vascular technology in the UK. He will be delighted to tailor your consultation according to your condition, and offer you diagnostic imaging scan at the same consultation visit to save your time and provide you final treatment plan.
Mr Abisi has an active academic output including numerous publications in renowned scientific journals and co- authored book chapter. He was awarded postgraduate certificate in academic practice (PGCAP) in 2009 and Master of Surgery (MS) in 2008 from King College London. He is a fellow of the Royal College of Surgeons and member of the UK Vascular Society and European Society of Vascular surgery. He is faculty on number of educational and teaching courses, and speaker in national and international meetings.